Please note that due to health concerns, all our programs are online only. You can REGISTER BELOW for Sunday events and join us from the comfort of your own home. Kum Nye is drop-in for $15, Dharma Talks are free. 
Sunday Morning Kum Nye (10:00 AM – Noon)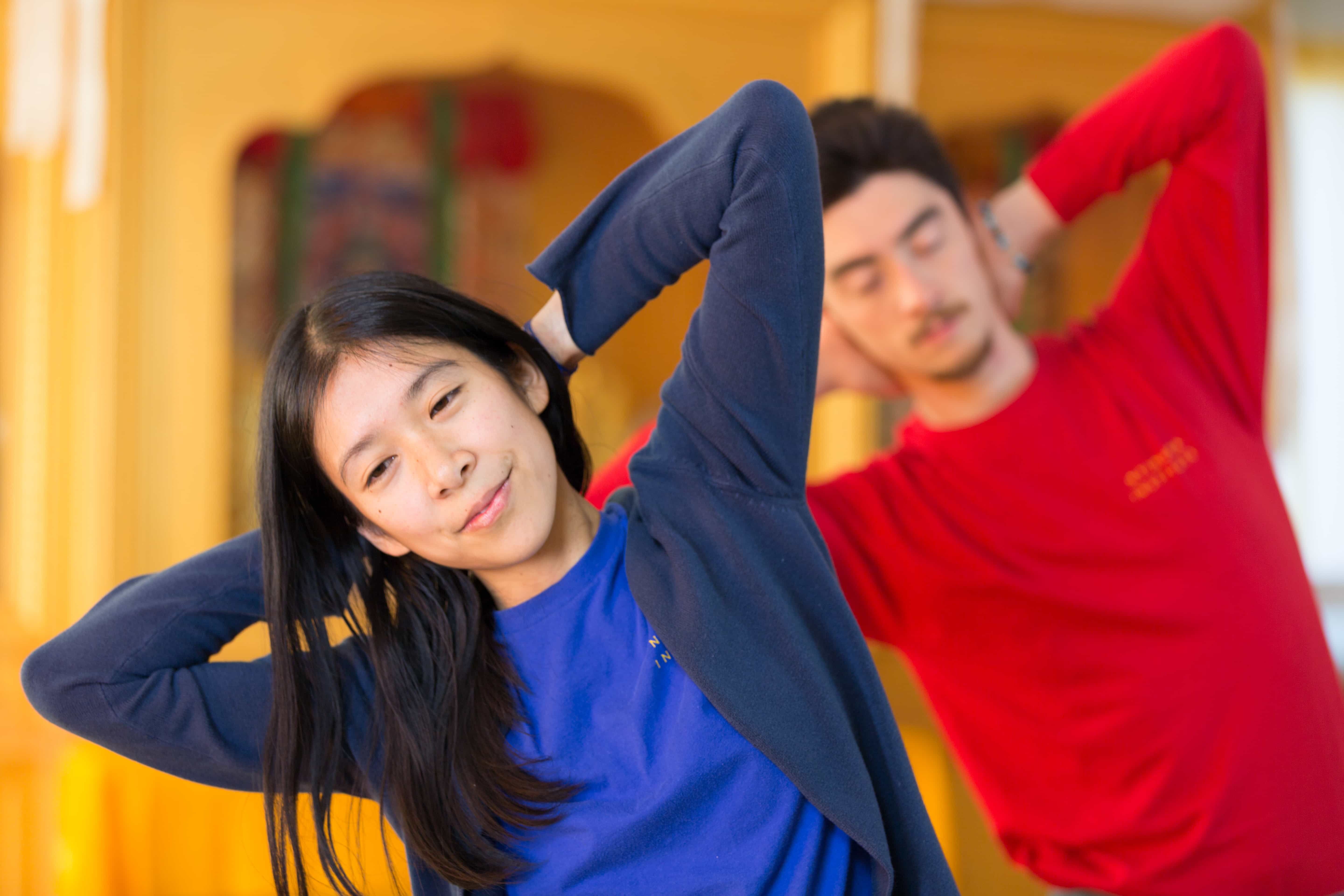 Discover the gentle movement exercises of Kum Nye Tibetan Yoga: effective techniques for relaxation, healing, relieving tension, and revitalizing body and mind. Both experienced and beginning students are welcome to attend this drop-in class.
This two-hour session of movement allows you to relax more deeply into stillness.
Faculty: Kum Nye Instructors.
April – Dave Abercrombie
May – Santosh Philip
June – Donna Morton, Abbe Blum
July – Dave Abercrombie
August – Santosh Philip
September – Donna Morton, Abbe Blum
October – Dave Abercrombie
November – Santosh
December – Donna Morton, Abbe Blum
Cost: $15.   
Sunday Evening Dharma Talk or Practice (6:00 – 7:00 PM)
Please find topics for each week below. Cost: Free.
April 26:  Women's Meditation Practice Evening
Please join us for meditation, renewal and community. Bring a friend!
May 3:   Lama Palzang "Journey to the Vajrasana:  2020 Nyingma Monlam"
Lama Palzang, Co-Dean of Nyingma Institute, will present his photographs of this year's Monlam Ceremony in Bodh Gaya, India, as an online slide show, and will speak of the great value of the prayers and offerings made during the ceremony for universal peace and awakening. 
May 10:  Donna Morton  "Kum Nye Ways to Begin and End the Day"      
Kum Nye breathing, movement and massage practices can be incorporated into a daily routine in various ways, including as a morning practice to clear, ground and energize, and in the evening to calm, relax, and prepare for a restorative night's sleep. We will explore a few practices you may find helpful to bookend your day.
May 17: Abbe Blum  "Discovering Our Body of Knowledge through Kum Nye Tibetan Yoga"
Kum Nye, the art of developing balance, relaxation, and integration of body, mind, senses, feelings and environment, is available to everyone. As we deepen connection to our embodiment, through physical and psychological approaches to integrating body and mind, a transformation naturally occurs: agitation and anxiety loosen; tension softens; mind quiets and becomes clearer.  Feeling more alive, refreshed, and confident, we can discover a new way of being.  Nyingma Institue will offer a Kum Nye Teacher Training Program beginning this fall.  Imagine the satisfaction from practicing—even teaching—such an art.
May 24:  Santosh  Philip "The Joy of Meditation"
What would happen if you sit comfortably balanced, aware of your embodiment, just as it is from the top of your head all the way down, aware of the freshness of breath as it enters the body, fills the body with space, and then releases anything you don't need completely, mind loose and open, quieting, sensing? How would you feel?  Meditation Instructor Santosh Philip will talk about tools he has discovered, to guide you towards joy in the most simple experiences of the mind and body, offering some practice.
May 31:  Women's Meditation
June 7:  Hugh Joswick   "Filled with Devotion"
Awakening to Dharma means that we have surrendered our hearts to truth. This surrendering is not a blind faith, but a confidence we can cultivate to build inner strength and trust.  Nyingma Institute instructor, Hugh Joswick, will discuss how to develop such confidence by distinguishing belief from faith, skepticism from inquiry, and helplessness from caring.
June 14: Bob Byrne  "The Practice of Skillful Means"
"How can our work and our spirit make full use of our potential, to open to the infinite range of experience that lies within even the most mundane activity?" As a direct expression of great compassion, Skillful Means allows curiosity and care to blossom.  Every situation we find ourselves in becomes an opportunity to connect to the deeper heart of all. This is Skillful Means.
June 21:  Abbe Blum  "Staying in the Center"
"Wherever I am, I find myself 'in', …" from Dimensions of Mind, "No Positions". How do we examine our own situation to encourage living our life in a way that makes a difference? This interactive presentation based on Tarthang Tulku's Dimensions of Mind inquiries about positions we take, the zoning that seems to enforce our mind and body lanes, and ways we can open into greater flexibility and deep insight— "when there's no holding, it's all completely open."
June 28: Women's Meditation
July 5: Nyingma Institute Closed
July 12: Suellen Ehnebuske  "Attaining Inner Confidence"
Nyingma Dharma student and teacher, Suellen Ehnebuske, will talk about the relationship between a deepening meditation practice and ordinary life experience, in which we learn to believe and trust in ourselves.  Tarthang Tulku writes in Gesture of Balance, "We may have some idea that a place of ultimate understanding exists – but heaven is not necessarily somewhere else.  It is within the nature of our minds, and this we reach through meditation.  We just accept each situation as it comes, and follow our inner guidance – our intuition, our own hearts."
July 19:  Santosh Philip  Topic TBD
July 26:  Women's Meditation
August 2:   TBD
August 9:  Hugh Joswick and Celine Dizon   " Studying the Sutras"
What is the value of reading the sutras today? Nyingma Institute members Hugh Joswick and Celine Dizon will discuss the merit of studying the sutras and how that can improve understanding of the spiritual path and deepen practice. They will present short passages from the Buddha's teachings that they have found particularly inspiring and meaningful.
August 16:  Bob Byrne   "The Heartfelt Wisdom of Vimalakirti"
Amid the glittering profusion of jewel-like teachings of the Mahayana Buddhist Scriptures,  "The Holy Teaching of Vimalakirti", as Robert Thurman says,  "stands out." We will read and discuss passages from this Sutra that showcase Vimalakirti's remarkable teaching style.
August 23:  TBD
August 30:  Women's meditation