COVID-19 Update:
The bookstore is currently closed due to health concerns. Please email us if you have any questions. 
Located on the front porch of Nyingma Institute, the bookstore offers a wide variety of books, meditation aids, and imports from the Himalayas for anyone interested in Buddhism, or simply in leading a more spiritual life. Proceeds from the store go to help preserve Tibetan culture through a variety of non-profit organizations founded by Tibetan Lama Tarthang Tulku.
We offer a range of products including books on meditation, healing, Buddhist translations, and children's books. 
Other products we carry include:
Meditation Cushions & mats 
CDs and DVDs
Prayer Flags (many sizes and materials)
Journals / Sketchbooks with beautiful Dharma covers
Ritual Objects (Bells & Dorjes, Offering Bowls, etc.)
Ritual Instruments (Drums, horns, Singing Bowls, etc.)
Incense (many varieties)
Neck and Wrist Malas (semi-precious stones, wood & bone)
Location: the front porch of Nyingma Institute.
Questions? Please call (510) 809-1022 or (510) 809-1000.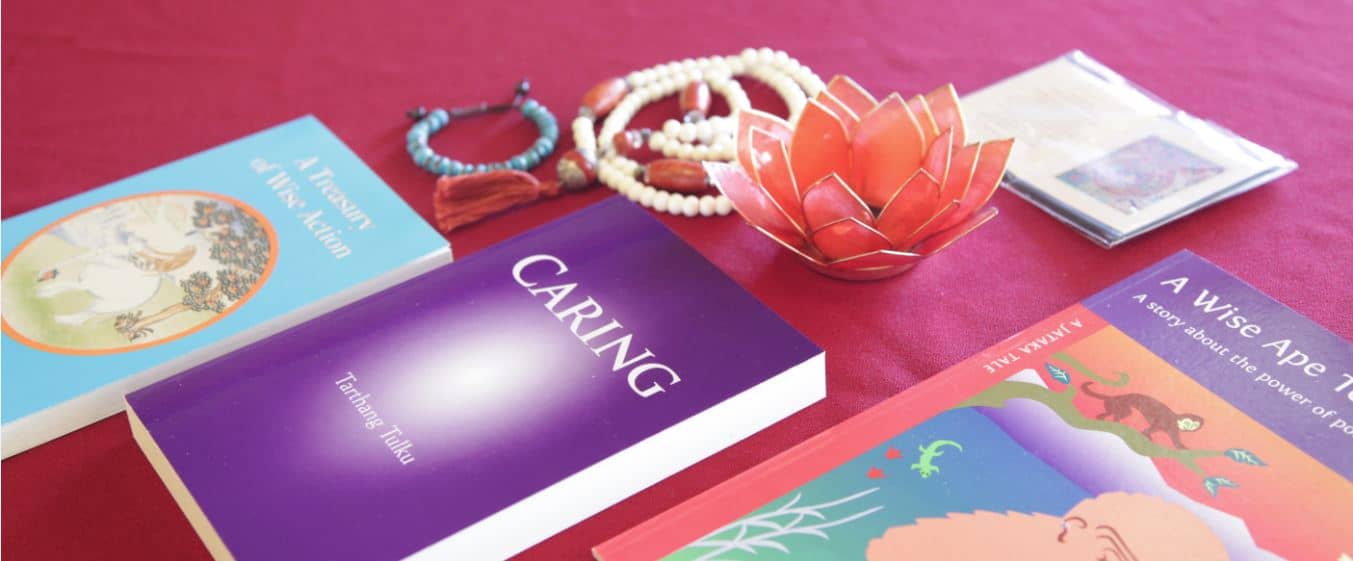 In addition to books, we carry traditional and wrist malas, singing bowls, prayer wheels, cards and incense. Here are a few of the items that are available:
NOTICE:
November 4, 2020
Dear friends, students, and customers,
We will no longer be selling sacred art through our bookstore. More generally, Dharma Publishing and all our sister organizations will be discontinuing sacred art sales.
The main purpose for our bookstore has always been to support our educational activities and make important texts available to our students and the general public, and so we will continue carrying Tarthang Tulku Rinpoche's books as well as a broad range of Buddhist texts for your study and practice. 
All best wishes,
The Nyingma Institute staff and administration