Cultivating the Four Immeasurables
2-Day Online retreat
October 21 – 22, 2022 (10 am – 1 pm PST each day) 
Cultivating the "four immeasurable" states of mind––love, compassion, sympathetic joy, and equanimity––is a classic Buddhist practice that teaches us to transcend our ordinary ways of being and our limited ways of understanding. It is an essential practice in developing bodhicitta, the mind and intention for enlightenment. Contemplating the "four immeasurables" undermines the commitment to the concerns of the self and turns the mind to the welfare and happiness of others. The four immeasurables serve as the antidote to suffering, negativity, and emotionality.
This international online retreat consists of two 3-hour webinars, offered on Friday October and Saturday October at 10 am – 1 pm PST / 7 – 10 pm CET by the deans of the Nyingma Institute, Lama Palzang and Pema Gellek.
This weekend retreat is included in the 9-month international program Deepening Dimensions of Mind which runs from September 2022 to May 2023, but others with some background in meditation or Dharma practice are very welcome to register. Cost:  $120 or € 120 per person.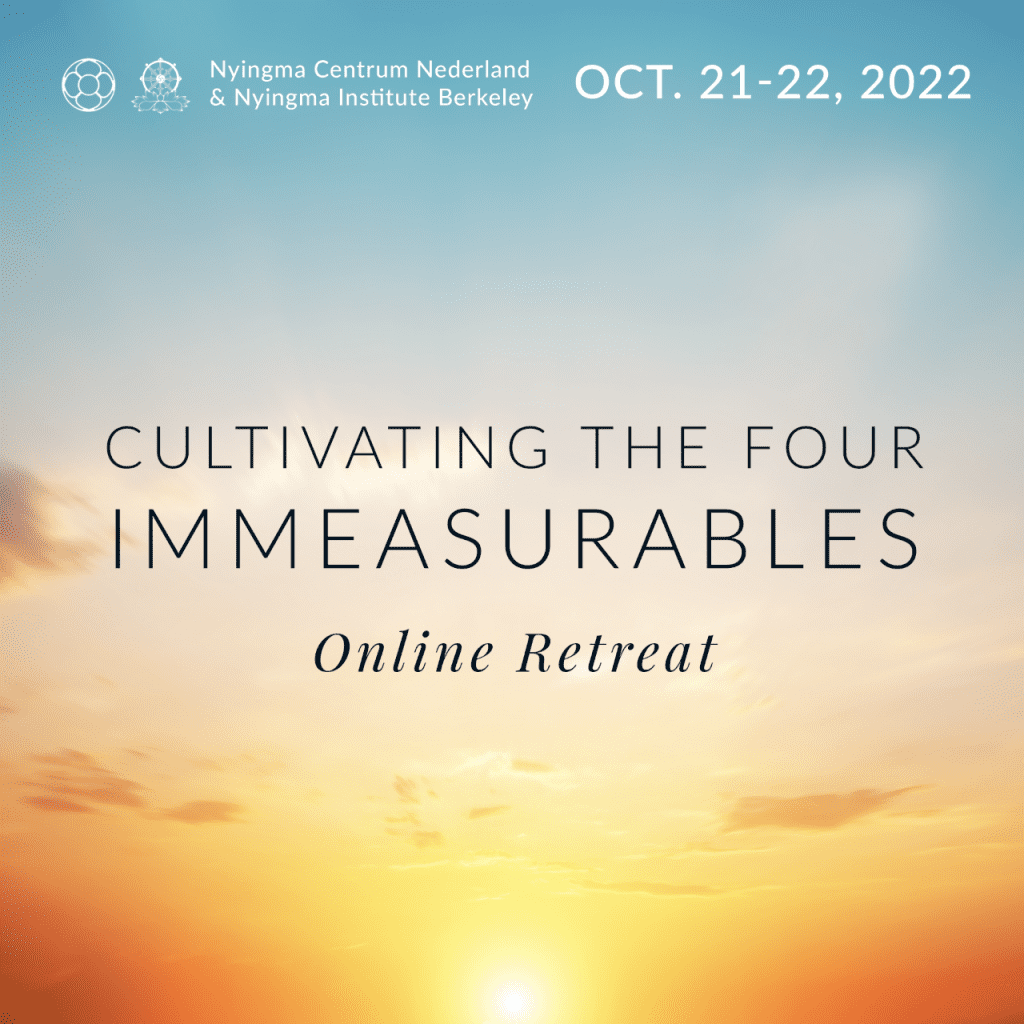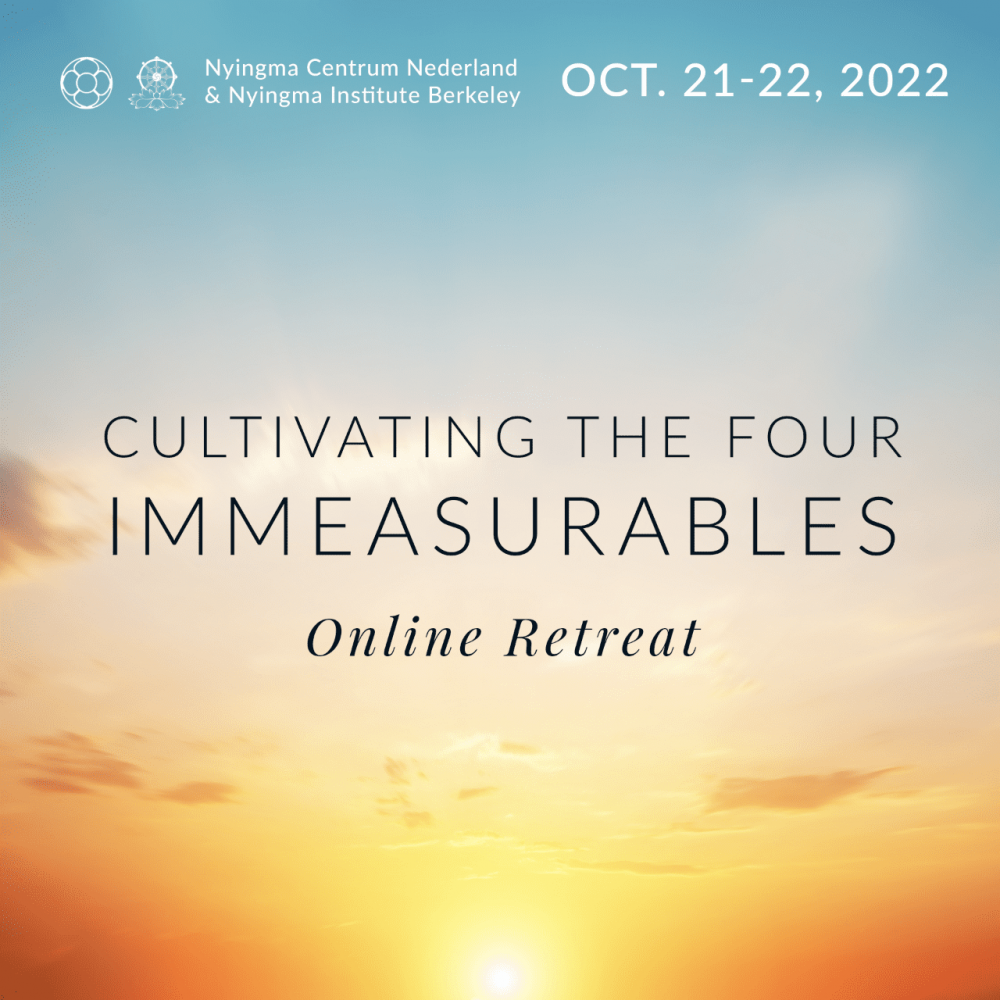 Retreat Schedule
Two 3-hour webinar sessions, held through Zoom, comprise the offerings of the retreat. We encourage participants to organize a quiet space for private practice, and to ensure reliable internet access in that place.
Friday, October 21:  10 am – 1 pm, PT  /

19:00 – 22:00 hrs CET

Saturday, October 22: 10 am – 1 pm, PT  /

19:00 – 22:00 hrs CET
Sign up for Cultivating the Four Immeasurables
Friday, October 21 – Saturday, October 22, 2022
Program cost: $120 (or € 120) per person. Included in Deepening Dimensions of Mind program.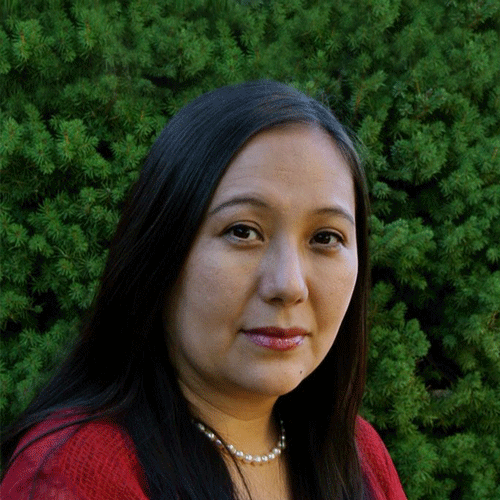 Pema Gellek, M.A., is a disciple of her father, Tarthang Tulku, and Chadral Rinpoche, and studied Tibetan Buddhism at the Rangjung Yeshe Institute in Nepal. Working within her father's mandala of organizations, she serves as a bridge between dharma in the East and West and has helped carry out Tarthang Tulku's dharma activities in Asia for the past 20 years.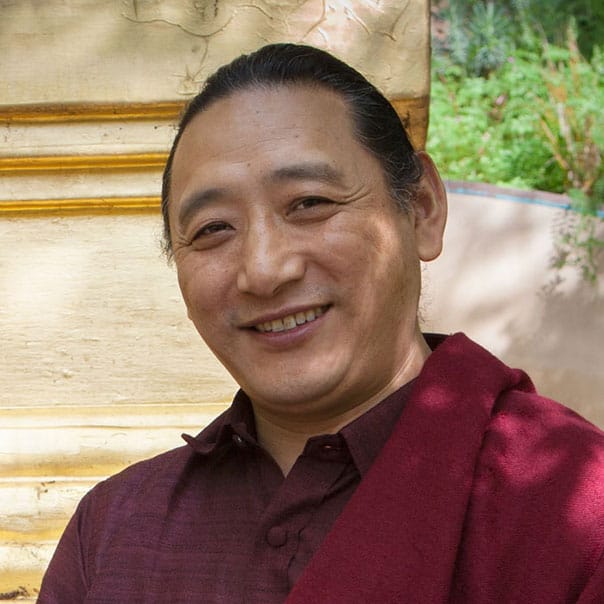 Lama Palzang is a Nyingma lama who was born in the Gyarong region of Tibet, where from a very young age, he was trained in the dharma under Jigme Tenpa Dargye Rinpoche. He was formally educated at Minyak Lhagang Monastery in Kham and trained in the Longchen Nyingtik tradition under his root teachers, Khenchen Chodrak Rinpoche and Kyabje Chadral Rinpoche.