Mastering the Art of Happiness Program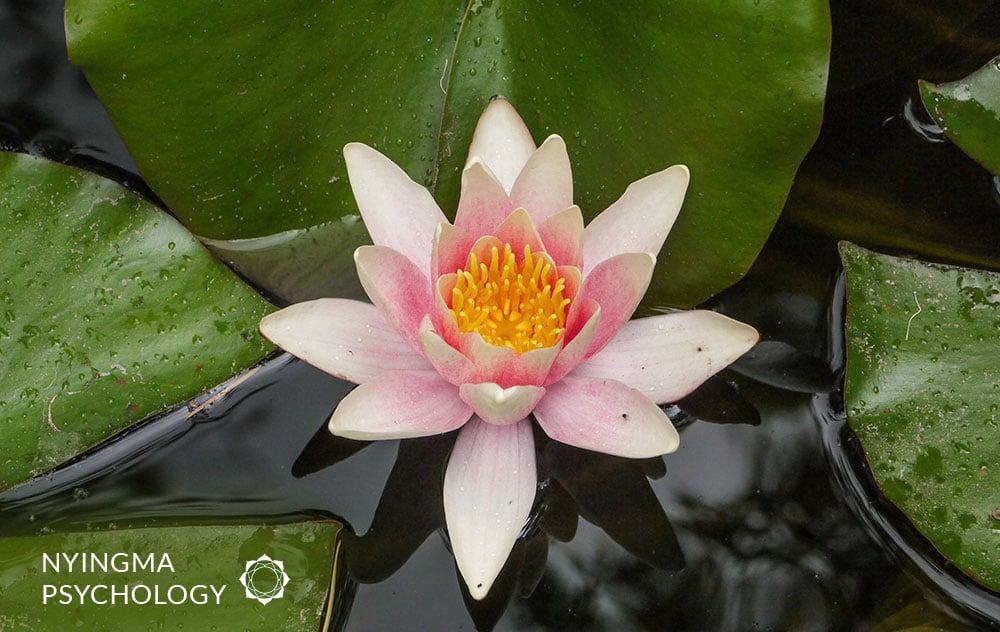 There is an art of happiness based on a profound science of mind transmitted for centuries through the Tibetan Buddhist tradition. For forty years the Nyingma Institute has presented these teachings in ways that can be readily assimilated into our modern lives. Now we also offer a cohesive program to train students in the art of happiness—cultivating a joyful approach to life based on insight into the workings of mind, emotions, and thought.
Using analysis and meditation to precisely determine mental and emotional states, students learn to cultivate and maintain joyful ease—a deep relaxation of body and mind that leads to greater flexibility and authenticity. Applying antidotes that transform negative states of mind, inner suffering is diminished.
At the heart of the program are introspective practices that facilitate individual insight and the strength to enact positive change. Discussion centers on teachings from the Tibetan tradition presented in a non-dogmatic fashion that fosters each student's journey of inner discovery. The texts utilized are written by the Institute's founder, Tarthang Tulku. The goal is for each student to gain the skills needed to find greater joy and meaning in their lives.
Course Length
Minimum 1 year (52 weeks); maximum 2 years (104 weeks), minimum of 130 Contact Hours.
Course Schedule
Please note that this section will be updated soon! Required classes are offered on Monday evenings from 8:00—9:30 PM or, in some quarters, on Thursday afternoons from 1—2:30 PM. Elective classes are typically offered in the evenings at 6:15—7:45 PM or 8:00—9:30 PM. Most workshops are held on Saturdays from 10:00 AM—4:45 PM. Elective retreats are offered throughout the year. Retreats typically begin on Mondays at 10:00 AM and end on Saturdays at 4:45 PM.
Course Objective
Upon completion of the Mastering the Art of Happiness Nyingma Psychology Program, students will understand how to determine the body/mind components of mental and emotional states, and how to apply antidotes to transform the negative aspects of emotions, concepts, and feelings.
Program Requirements
Five classes, four workshops, and one one-week retreat. Four of the five classes are required; one is elective. Two of the four workshops are required, two are elective. The one-week retreat is an elective. Students choose electives in conjunction with their student advisor.
Tuition
$1,500 (may be paid quarterly); Registration fee of $26. Tuition costs cover all core and elective classes and workshops and one nonresidential retreat.
Required Classes
4 (66 hours) (May be taken in any order)*
NPS101 Healing Mind (30 hours)
NPS102 Transforming Negative Emotions (15 hours)
NPS107 Insights from Buddhist Psychology (6 hours)
NPS103 Working with Emotions (15 hours) or NPS104 Art of Happiness (15 hours)
Required Workshops
2 (10 hours)*
NPS401 Transforming Negative Emotions (5 hours)
NPS405 The Self-Image (5 hours)
Elective Classes
Choose one 15 hour class or two 7.5 hour classes*
KNR105 Kum Nye: Expanding Enjoyment and Ease (15 hours)
KNR101 Kum Nye: Promoting Spaciousness (15 hours)
KNR102 Kum Nye: Working with Lower Body Energy (15 hours)
KNR103 Kum Nye: Releasing Tension and Restoring Balance (15 hours)
MED101 Quieting the Mind (15 hours)
TSK108 Time, Space, and Knowledge: Perspectives and Practices (15 hours)
NPR103 Dream Yoga and Authentic Communication (6 hours)**
NPS105 Heart Practices for Everyday Life (7.5 hours)
NPS108 Finding Wholeness and Wellness on the Spiritual Path in the Modern World (15 Hours)
NPS106 Nyingma Gateway: Love of Knowledge (15 hours)
**Certificate Program students will receive additional 1.5 hours' instruction.
Elective Workshops
Choose 2 workshops (10 hours)*
NPR401 Dream Lotus Evening (2.5 hours) (counts as half a workshop)
NPS406 Activating Joyous Feeling (5 hours)
NPS407 Transforming Personal History (5 hours)
NPS414 Mindful Eating: Getting Back to Our Senses (5 hours)
NPS402 Overcoming Fear of Change (5 hours)
MED401 How to Meditate (2.5 hours) (counts as half a workshop)
KNR403 Opening the Heart (5 hours)
KNR406 Joy and Spaciousness (5 hours)
NPS411 Loving Yourself, Loving Others (5 hours)
KNR420 The Art of Sitting Comfortably (2.5 hours) (counts as half a workshop)
KNR404 Balancing Emotions through Tibetan Yoga (5 hours)
NPS408 Compassion, Mindfulness, and Well-Being (5 hours)
NPS409 Attaining Inner Confidence (5 hours)
NPS404 Topics in Transforming Emotions (5 hours)
TSK403 Creativity and Consciousness (5 hours)
Elective Nonresidential Retreat
Choose 1 retreat (29 hours)*
NPS507 Luminous Mind (29 hours)
NPS501 Transforming Negative Emotions (29 hours)
NPS502 Cutting through Conditioning (29 hours)
NPS503 Loving Yourself, Loving Others (29 hours)
NPS504 Touching Wonder and Facing Fear (29 hours)
NPS505 Reclaiming the Heart (29 hours)
NPS506 Self-Image: Observing, Recognizing, Releasing (29 hours)
KNR502 Integrating Body and Mind through Tibetan Yoga (29 hours)
KNR503 Kum Nye: Touching Present Energy (29 hours)
KNR505 Tibetan Yoga for Healing and Energy (29 hours)
MED501 Silent Retreat (29 hours)
MED503 Developing Clarity (29 hours)
MED506 Reflection and Insight (29 hours)
TSK501 Time, Space, and Knowledge: Visionary Journey into Inner Space and Time (29 hours)
*In individual cases, to further the educational goals of the student, classes, workshops, and retreats may be substituted for those on these lists with the consent of the Program Director or the Chief Academic Officer.