Finding Inner Peace Program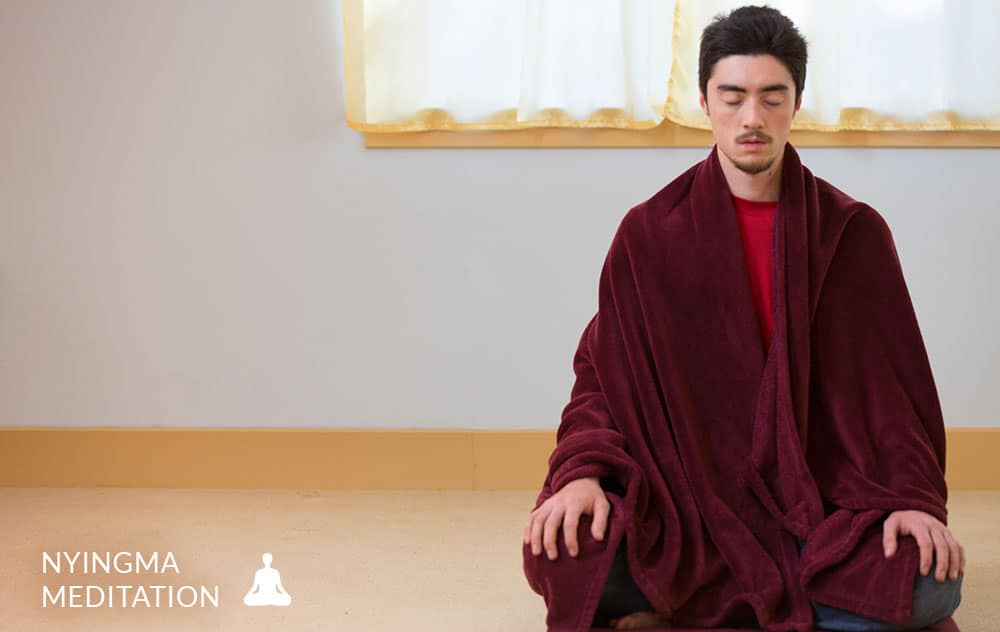 Inner peace is a great gift to give ourselves.
Our needless worries, regrets, and confusions fall away. We no longer suffer from sharp inner debates of right and wrong, alternating between strength and weakness, aggression and collapse. In their place come genuine ease and self-respect.
How do we give ourselves this gift? Focusing the mind inward through meditation, we discover that the mind deserves our loving care and that we can cultivate peaceful positive states of mind, nourishing and benefitting ourselves and others.
The Finding Inner Peace Meditation Program offers the sustained guidance and support needed to develop a regular meditation practice. Taught in an open-minded way, this year-long program draws on a rich variety of introspective practices from the Tibetan tradition. The goal of the program is for each participant to gain the inner tools needed to tap into the serenity and clarity that forms the core of mind.
Nyingma Meditation traces its origin to the time of the Buddha, 2,500 years ago. The Finding Inner Peace Meditation Program introduces students to the fundamentals of meditation practice and provides the support needed to establish an on-going daily practice. Classes offer instruction and guidance in silent sitting and walking meditation, Tibetan mantra practice, visualization, Tibetan Yoga (Kym Nye), and mindful living. Readings and discussion bring insight to the nature of mind and meditation. Components of the Finding Inner Peace Meditation Program include five required classes in Meditation, and one elective class, four workshops and one week-long retreat in Nyingma meditation or a related area.
Program Length
Minimum 1 year (52 weeks); maximum 2 years (104 weeks). Includes 130 hours of in-class instruction.
Program Schedule
Please note that this section will be updated soon! Required classes are typically offered on Thursday evenings at 6:15-7:45 PM. Elective classes are typically offered in the mornings from 10-11:30 AM or the evenings from 6:15—7:45 PM or 8-9:30 PM. Most elective workshops are held on Saturdays from 10:00 AM—4:45PM. Elective retreats are offered throughout the year. Retreats typically begin on Mondays at 10:00 AM and end on Saturdays at 4:45 PM.
Costs
Tuition: $1,500 (may be paid quarterly); Registration fee and State fees: $30; Estimated costs for books: $50. Tuition costs cover all required and elective classes and workshops and one nonresidential retreat.
Advisors
Students are paired with an advisor who will help them through the enrollment process and check-in on their progress throughout the program.
Program Components
The Program includes five required classes in meditation, one elective class, four workshops, and one week-long retreat in Nyingma meditation or a related area.
Program Objective
Upon completion of the Finding Inner Peace Meditation Program, students will understand the basic principles of meditation, will have knowledge of basic sitting and walking meditative techniques, and will be prepared to have an ongoing daily meditation practice of at least one-half hour per day.
Required Classes
5 (66 hours) (Need not be taken in sequential order)*
MED101 Quieting the Mind (15 hours)
MED102 Developing Inner Serenity (15 hours)
MED103 Calm and Clear (15 hours)
MED104 Self-Observation (15 hours)
MED105 Meditation for Healing (6 hours)
Elective Classes
Choose 1 class (15 hours)*
KNR101 Kum Nye: Promoting Spaciousness (15 hours)
KNR102 Kum Nye: Working with Lower Body Energy (15 hours)
KNR103 Kum Nye: Releasing Tension and Restoring Balance (15 hours)
KNR105 Kum Nye: Expanding Enjoyment and Ease (15 hours)
TSK108 Time, Space, and Knowledge: Perspectives and Practices (15 hours)
NPS102 Transforming Negative Emotions (15 hours)
Elective Workshops
Choose 4 workshops or a total of 20 hours*
NPS401 Transforming Negative Emotions (5 hours)
MED401 How to Meditate (2.5 hours)
NPR401 Dream Lotus Evening (2.5 hours)
MED402 Healing Sound (5 hours)
MED403 Calm and Clear (5 hours)
MED404 Visualization to Clear the Mind (5 hours)
MED406 Light Awareness: Visualization in the Tibetan Tradition (5 hours)
MED412 Healing through Breath (5 hours)
MED407 Foundations for Mindfulness (5 hours)
MED418 Gesture of Balance (5 hours)
MED419 Music, Mantra, and Meditation (5 hours)
NPS406 Activating Joyous Feeling (5 hours)
KNR403 Opening the Heart (5 hours)
KNR420 The Art of Sitting Comfortably (2.5 hours)
KNR401 Renewing and Refreshing the Senses (5 hours)
KNR404 Balancing Emotions through Tibetan Yoga (5 hours)
KNR415 Stress Reduction through Tibetan Yoga (5 hours)
Elective Nonresidential Retreats
Choose 1 retreat (29 hours)*
MED501 Silent Retreat (29 hours)
MED502 Finding Inner Peace (29 hours)
MED503 Developing Clarity (29 hours)
MED506 Reflection and Insight (29 hours)
KNR501 Tasting Relaxation (29 hours)
KNR502 Integrating Body and Mind through Tibetan Yoga (29 hours)
KNR503 Kum Nye: Touching Present Energy (29 hours)
KNR505 Tibetan Yoga for Healing and Energy (29 hours)
*In individual cases, to further the educational goals of the student, classes, workshops, and retreats may be substituted for those on these lists with the written consent of the Program Director or the Chief Academic Officer.